Summer Camp 2014
Check in is at 3 PM on Sundays, and pick up is 9 AM on Saturdays. See you soon!
It's your child. Choose the Christian Summer Camp that puts your Child's Happiness First
In a world that constantly tells kids they should be something different than who they are – Vanderkamp is a place that helps kids learn to love themselves for who they really are.
Our stated goal at Vanderkamp is to create a community that mirrors as closely as possible what it would be like if everyone were to accept the Peace of Christ in their hearts – to be a proof of concept for why loving our neighbors as ourselves is the best way to live. It does not matter where a child is in his or her faith journey – they will not be pressured to be anything besides exactly who they are.
Check out our Summer Camp Video below to see some clips from summer camp, and get a better sense of what our summer camp is all about!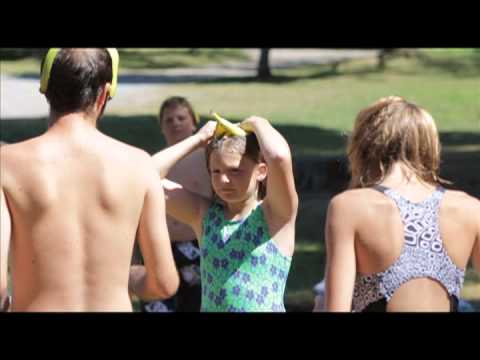 Helping kids to use freedom wisely while keeping them as safe as possible is the name of the game at Vanderkamp. We help kids learn to love themselves by strictly following our "No Discount" policy – which asks summer campers and camp staff to take everything at its "full value," and not put down others, themselves, or activities they've chosen. We also have a Resident Nurse on site all summer to ensure kids stay as physically safe as possible.
And, well, we'd be remiss if we didn't mention we're one of the most fun kid's camps, too. After instituting our new approach, we've more than doubled the number of kids who attend summer camp from 2011 to 2013! Click here to read testimonials from actual summer campers and their parents!

Wondering about our methodology? Please contact us or check out our essays on the Vanderkamp Method, which we believe can change how the adult-child interaction looks in Christian communities forever. We're proud to say that our practices were featured at a workshop at the regional NEXT church conference in Rochester, New York, for its unique and forward thinking approach!, and we were also written up on the nation-wide summer camping website Camping Coast to Coast, who left here so energized that they wrote:

"Visiting Vanderkamp was an experience unlike any other. A camp that proves anything is possible….The magic of Vanderkamp lies in treating children like humans, empowering them to make decisions, and trusting that as humans we are inherently motivated to learn, seek growth, and love each other. This foundation of love leads to one of the most magical places on earth."
What's also cool? They loved it here so much that they'll be working here this summer as Assistant Directors. Check out this post to read more, and to hear some other exciting updates for this year.
As staff members, we try to model Christ's love and values without forcing kids to feel like they need to be anywhere besides where they are in their faith journey.  Through this approach, we have seen incredible growth and transformation among the campers (and staff!), and have had a ton of fun in the process.  With innovative games, a loving staff, and a unique approach, summer camp at Vanderkamp is truly a 1 of a kind experience.  Say good-bye to bullying (click to read about our bullying approach), teasing, and loneliness, and join us for a week of fun and faith that will change your life. 
Now, on to the fun stuff, our 2014 offerings!
First, every kid who comes to summer camp this year will have access to our amazing unstructured play area, community farm (which raised over 2,400 pounds of produce last year – donating 1,200 to local food banks!) and free range chickens, our group-building activities, and our wonderful facilities. For a little bit extra, campers of all abilities can spend 2 hours a day learning horse back riding with North Riding, which has produced multiple state champions. And of course, each summer camper gets the chance to do all of our traditional activities, from archery, to arts and crafts, to group-building activities, boating, OUTRAGEOUS activities, and more! We do some dynamite evening games (and all new ones for 2014 – check out a few teasers for those here.
But to find out what each week has in store? Check it out below!
Click here for all Camp Forms!
Click here for Camper-Registration-form-2014
Freedom Week – 7/6-7/12
Vanderkamp is all about helping kids to use freedom wisely, so what better way to kick off the summer than with Freedom Week? It's happening from 7/6-7/12. Kids will democratically decide the camp schedule twice during the week, have unlimited time in our "unstructured play area" if they want it, set off air rockets over the lake, try to build a raft from scratch to cross the lake, and SO much more.  
Click here to register for Freedom week!
Dreamworld – 7/13-7/19
Back by popular demand, Dreamworld is back in full force! From July 13th-19th, kids ages 7-17 we're bringing back one of our most popular themes! We'll run all of our usual fun activities, and campers who are interested can also take part in our daily Dreamworld activities, where every day we'll dive into a land of make believe. Curious characters will roam camp, looking to give children quests to do. Kids can practice their acting by developing a whole new character personality (outfitted from our costume closet!), and the kids will take the world wherever they please. An alien invasion? Colonization of a new world? A land of lost primitives? Who knows? Only those who attend this week will decide and find out!
Click here to register for Dream World!
Sneak-a-Peek, 7/6-7/9, 7/13-7/16
From 7/6-7/9, children from 6-8 can join us for a little 'peek' into our summer camping program. We take special care of our first-time campers! Choose Sneak-a-Peek and be part of camp for two or three nights. First-timers who are having a blast can also choose to stay the rest of the week. Participate in all of our camp activities with a little extra love and care from our summer camp staff. Make sure to pack your bags for the whole week, as almost every sneak-a-peeker winds up staying the whole time!
(note: Sneak-a-peekers who stay the entire week pay $350 instead of the $175)
Vanderkamp is a place that is specially designed for the youngest of campers, as they are given incredibly attentive counselors, easily supervised lodging, and more personal attention than they could find at any other summer camp. The journey to self discovery starts whenever we allow a child to begin – so why not send your child to a place that will love him or her as family?
Click here to register for Sneak-A-Peek Session 1 from 7/6-7/9!
Click here to register for Sneak-A-Peek Session 2 from 7/13-7/16!
Sports and Creativity Week – 7/20-7/26
This event has filled – please call the office at 315-675-3651 if this is the only week you can attend, or if you have a friend attending this week who you want to come with. We may be able to help. For those campers ages 7-17 who need their sports or creative outlets, this is the week for you! From 7/20-7/26, we'll offer at least 2 hours of sports and 2 hours of creative activities every day. This means you can bring your trombone, paints and brushes, baseball mitt, or basketballs! We'll have a talent show at the end of the week for kids that parents can attend. We'll also be offering the famous VK game Ga Ga every day, so you won't miss it if you don't want to!
Click here to register for Sports and Creativity Week!
Camp Oasis – 7/27-8/2
Kids today have such a fast paced schedule, and many of them just need the feel to unwind. Sound like your life? Come to camp Oasis! From 7/27-8/2, kids from ages 8-17 will come out for a first time offering unlike any we've ever put forth. We'll be featuring later breakfasts with less firm wake up times, outdoor seating options at meals, a lakeside luau, and cold fruit drinks served by the lake. Just picture Vanderkamp an all-inclusive resort, with all of your best friends! Take extra free time if you want it, or enjoy all of Vanderkamp's normal activities. Come night-swimming, or play in some brand-new night time games with a tropical theme. Camp Oasis is here for YOU to do what you want with it!
Click here to register for Camp Oasis!
Outrageous Tweekers – 8/3-8/16

Come for two weeks of Outrageous summer camp programs at a discounted rate from 8/3-8/16, and stay over on the weekend! Never been at camp on a Saturday night before? You must be itching to know what happens! Join us for Tweekers and see a whole different side of Vanderkamp! Coming for both weeks of Camp Outrageous is the only way to make sure you don't miss out on any of the outrageousness — so we really hope to see you there!
Click Here to register for Outrageous Tweekers!
Camp Outrageous – 8/3-8/9
We wouldn't dream of going a summer without Camp Outrageous! Craziness reached new heights last summer, and if you weren't here to see it, you had better sign up fast! From 8/3-8/9, kids from ages 10-17 will come out to join Camp Outrageous. Camp Outrageous fills up each year, and for good reason. With "outrageous activities" going off every day, there is no shortage of wild adventures to get involved in. Slime time? Eating pickles with your feet? The Questing Gnome? Perhaps. Just want to reunite with old friends and make some new ones, too? Perfect. Camp Outrageous also allows for later bed times and wake-ups – there's really something for everyone!
Click here to register for Camp OUTRAGEOUS!
Outrageous Extended! – 8/10-8/16
More Outrageous! With a whole new set of outrageous activities for everyone to enjoy, this is a perfect week whether you come to the first week of Outrageous, or not. We'll head back out to the Edge of the Earth for the third time as well. Curious? Come check it out! The picture to the left is a little teaser – last year we discovered a previously undiscovered building! The last week of camp is always the craziest, so don't miss out!
Click here to register for Outrageous Extended!
Leaders in Training – 7/6-7/19, 7/20-8/9
What happens when young adults come to Vanderkamp to learn to be Christian Leaders? Lives are changed. This year's Leaders in Training Program will blow you away. From 7/6-7/19, come and make friends to last a lifetime, explore your faith, and have an experience you'll never forget. Learn how the Vanderkamp staff creates such a magical atmosphere. Do yourself a favor and sign up now – spots are limited.
LIT 1 is open for 15-18 year olds, and is a program designed for people who want to get a head start on learning what it means to be a counselor at Vanderkamp and a Christian leader in the world.
This program will teach you cutting edge child development theory, show you the tricks to igniting the inner passions of children, help you more deeply relate to your own faith, and will build you a group of friends that just might last a lifetime. LITs stay up later than normal campers and exist in a mixed-gender community under the supervision of a counselor and the assistant director. These are weeks for serious fun, deep spirituality, and intense growth and friendship.
15 Year old LITs will be encouraged to come back for LIT 2 next year, due to state laws which prohibit 16 year olds from being counselors, but will be given preference in the LIT 2 program.
Click here to register for Leaders in Training 1!
From July 20th-August 9th, Leaders in Training who are interested in spending 3 weeks with us can come and learn about what it takes to be a leader in the Vanderkamp Summer Camp community. LIT 2 is open for 16-18 year olds, and is a program designed for people who are serious about learning what it takes to be a spiritually grounded leader in the modern world.
This program will focus on building an intensely close spiritual community with your fellow Leaders in Training. Just like LIT 1, it will teach you cutting edge child development theory, show you the tricks to igniting the inner passions of children, and help you more deeply relate to your own faith – but there will be more in depth talks and activities concerning leadership and faith. LITs stay up later than normal campers and exist in a mixed-gender community under the supervision of a counselor and the assistant director.
LIT 2 is almost guaranteed to change your life.
What are you waiting for? Sign up and learn what a Christian Summer Camp experience is all about.
Click here to register for Leaders in Training 2!
Why go far away this year? Stay near Syracuse, NY, and enjoy the week of a lifetime!
Head over to our horseback riding information page to decide which of our top notch equestrian options is best for you! Whether you are a beginner (never ridden before, or have limited experience), an intermediate rider (know how to walk, trot, and perform patterns at a trot), or an advanced rider (know how to walk, trot, and canter, and want to learn to jump), we have an amazing offering for you! Riders at each level will go next door to North Riding for 2 hours a day, and will have access to elite trainers. Advanced level riders will be trained by Tracy Percival Foreman – an "A" rated trainer whose students have had successes all the way up to the national level!
When you sign up, feel free to sign up for more than one week if you are coming for more than one week of summer camp.
Click here to register for the Stable Club!
Want a fast and easy registration, and the cheapest way to pay? Pay now with Bitcoin, using the link below!