What Makes us Special?
We are a retreat center and summer camp that operates a lot differently than most you'll encounter.  Now, we understand you've probably heard that a lot – but we intend to prove it to you. Start by checking out a few camper and parent testimonials. Then you can check out the essays and articles on what we call "The Vanderkamp Method" which details our approach to summer camp. We're not just a summer camp – our retreat facilities and hospitality are wonderful as well!
Check out our Summer Camp Video below, or click "read more" to see the full size video!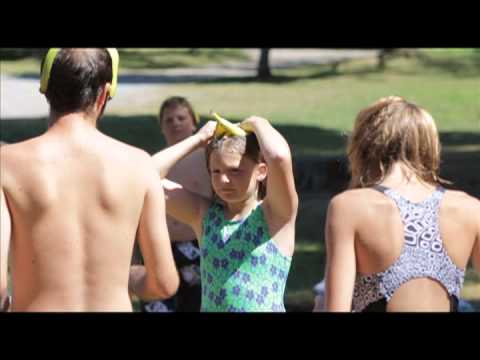 With so many camps out there to choose from, where should parents even begin?  At Vanderkamp we really believe that what separates our summer camp program is something that goes far beyond what activities we do – we believe that it is our culture that provides a unique experience.  In this article series, we'll give you a look into just why we run things the way we do – from general philosophies to very intentional specifics on how we interact with kids and form our community.  By incorporating ideas of Christian love with the latest in cutting edge child development theory, we truly believe that we have created a unique culture for children
to learn to love themselves, each other, and grow closer to God.  We are constantly refining and testing our philosophies to help children feel loved and accepted, and have the best time possible.  We're working on developing a community that would mirror what the world would look like if all people accepted Christ's message of peace and love into their hearts, and hope that you'll read on – and eventually come join us! We'd love any feedback you'd be willing to offer on any of our ideas – so when you see the link go up on the main page, head over to this section for more updates!
Head over to The Vanderkamp Method page for the most recent article, or follow the links below to view the articles in the order in which they are intended to be read.
First, the reasons why we think the Bible calls for a radical change in the way children are treated in the modern world in our essay on whole centered philosophy. If you agree that children must be treated differently, but are interested on the details of how we do it differently…read on, and check back regularly for or "like" us on Facebook for more updates!
If changing your mindset around interacting with kids seems very difficult, don't worry – it was for us too! Just read this article on embracing the truth as it comes to be known to see why we think it's so important to keep a fresh outlook on things.
In order to understand how we can treat differently, we explore how we can help kids achieve the bliss known as "being in the moment." This is the first essay addressing the "how" of treating kids differently, where the first essay delved into the "why."
Our most popular essay so far has been on how important it is to give kids choice.
If you're more interested in why we think the only way to teach kids to use freedom wisely is to give them freedom, then click the link embedded earlier.
It doesn't matter if you live near Syracuse, NY, and want to send your kid here for summer camp or for a Christian retreat – these ideas can be applied anywhere from school to home.
There are more essays over at the essays portion of our website, so go check them out, and be sure to comment if you have any thoughts, ideas, or disagreements concerning them!